The giveaway winner is cghundley! Congratulations Carla!
Hello friends! Tim Holtz has released his Ranger Christmas Distress collection (available for a limited time only!) and I wanted to share the swatches I made using the new Christmas Mica Stains, as well as the ones from last year. With the addition of this years colors, there are now 12 colors that make up the Christmas palette. When you add on the 12 Halloween colors, there is a rainbow of Mica Stains that can be used all year round! If you aren't familiar with the Distress Mica Stains, they are a spray ink that has a beautiful, pearlescent shimmer to it and so perfect for holiday crafting projects!
For my own personal use, I'm finding swatches more and more helpful when it comes to picking the colors I want to use for my makes. It also helps me break out of my rut of using the same colors all of the time. With that said, I thought it would be fun to make my swatches pretty to look at and with the recent Distress colors that have been added, I've been redoing my ink swatches.
I shared them
HERE
and
HERE
if you want a little more inspiration on creating your own pretty swatches. I also debated about making these using the same stamps and dies, but I settled on giving them their own look and sticking with a bit of a Christmas theme even though you can certainly use them year round.
TIM HOLTZ CHRISTMAS DISTRESS MICA STAIN SWATCHES
The first thing I did was die cut 12 tags and 12 snowflakes from Distress Watercolor paper...one for each of the Christmas Distress Mica Stain colors. I then spritzed some of the Mica Stain onto my non-stick craft mat, spritzed that with water and then smooshed a tag into the ink. Using my Heat Tool, I dried the tag and then spritzed the tag with water by slowly pulling the trigger on the Distress Sprayer so I got a mix of large and small water droplets. I dried this, set it to the side and repeated the process on each of the tags with each of the colors.
While I had the ink out for each tag, I also sprayed a snowflake die cut with the coordinating ink and dried it with my heat tool.
Once I had all of the inking completed, I pulled out the Tim Holtz The Poinsettia Stamp Set and added some stamping to each tag. I placed the tag in my stamping tool, traced around it with a pencil and used this outline to place the next tag in the same spot so I could easily remove the tag and stamp the next one. I also placed a bit of repositionable adhesive on the paper inside my stamping tool to help hold the tag in place. This way I didn't have to worry about moving the magnets around each time. I then stamped the images using Hickory Smoke Archival Ink.
To finish off the set, I printed out the names of the new colors, trimmed them down and adhered them to each tag.
So there you have it, my set of pretty swatches for the new Tim Holtz Christmas Distress Mica Stains. With these completed, it's now time to do my Halloween colors!
These are the Christmas Distress Mica Stain Swatches from 2021. As with all of Tim's seasonal releases, these are only available while supplies last, so sadly they are no longer available. I sure hope you grabbed them last year when you had a chance. If you didn't though, I do recommend grabbing this year's while you can!
Here's a look at all 12 Christmas Distress Mica Stain Swatches together. Aren't they gorgeous?! When you see them all together you can see how different the colors are from each other and that there's definitely no overlap of colors.
So will you be adding to your stash with the Tim Holtz Christmas Distress Mica Stains? Have you tried them out yet? I can't wait to see all of the inspiration that comes along as everyone creates with them.
• • • • • • • • • • • • • • • • • • • • • • • • •
GIVEAWAY - The winner is cghundley!
To celebrate this new release, I am giving away a set of Distress Mica Stains from 2021 to ONE lucky winner. This set includes both the Christmas and Halloween colors...12 total. You can leave a comment on this blog by 11:59pm EST on Wednesday October 12th, 2022 for your chance to win. Winners will be chosen at random from the comments left on this post. Because of the nature of this product and shipping, this is only open to residents of the USA.
• • • • • • • • • • • • • • • • • • • • • • • • •
TIM HOLTZ RANGER CHRISTMAS DISTRESS
If you just have to have all the new Tim Holtz Ranger Christmas Distress products you can grab them using the links below.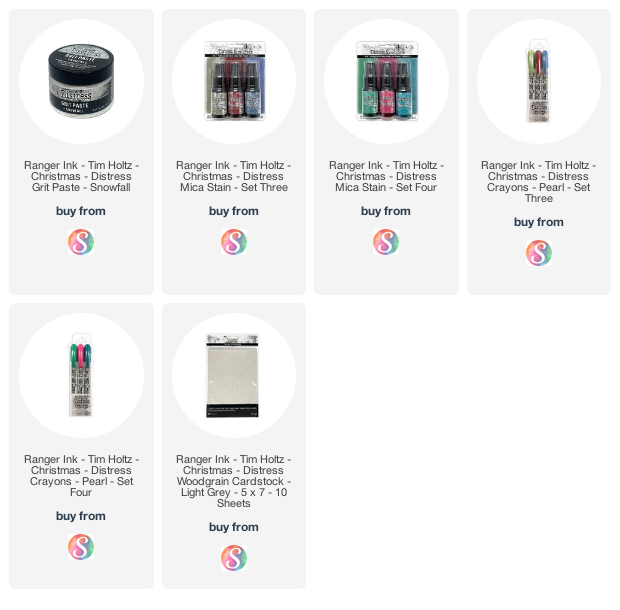 SUPPLIES
Below you can find the products I used to create this project along with compensated affiliate links to
Scrapbook.com
. These links are at absolutely no cost to you. When you shop through the links below, I receive a small commission from Scrapbook.com. These links are at absolutely no cost to you and the commission I receive helps me cover the costs of my blog and other expenses, which allows me to continue to provide you with FREE inspiration and tutorials. If you want to learn more about what an affiliate link is, you can see my full affiliate and product disclosure statement
here
. Thank you so much for your love and support!
I've also included the Halloween Mic Stains just in case you missed grabbing them!