What do you think of when you hear the words 6x8 album? Do you think scrapbooking, mini album, pocket pages? Scrapbook.com recently released a new line of 6x8 albums in 10 new colors and designs. They sent me one to play with and I thought it would be fun to come up with some ways to use these beautiful albums. Today I'm going to share with you 5 Ways to Use a 6x8 Album to organize your craft room as well as a little scrapbooking/pocket page inspiration. So let's get started.
5 Ways to Use a 6x8 Album
1. Pocket Pages/Memory Keeping/Scrapbooking
Memory keeping or scrapbooking is, of course, the most common way to use a 6x8 album. I recently started scrapbooking again using a pocket page type format and this past October I participated in Ali Edward's Art of Noticing. If you're interested in more information about this project you can check out her first Art of Noticing post from February.
I had done the journaling and photo taking at the time, but I got a bit lazy about actually putting it all together. When the 6x8 albums arrived I knew I had found the perfect system to use. I incorporated it with some papers and stickers from the Heidi Swapp Storyline Chapters collection and some Scrapbook.com Simple Scrapbook Cards.
Now here's a fun note for you...the Scrapbook.com Simple Scrapbook Cards I used are the Little One pack of cards. These are meant to be used for baby themed projects, but when I looked closely at the art on them I realized so many of them could be used for way more than baby projects and the colors and rainbows were perfect to coordinate with the other products I was using.
I definitely recommend taking a look at the Simple Scrapbook Cards and to keep an open mind as to how they could be used for something other than just the specific theme for which they are named.
2. Stencil Organization
Next up, let's get into some organization and storage ideas. I've been collecting stencils for quite awhile now and I've been looking for a way to store my ever growing stencil collection. For some reason, I tend to keep them in the package, but on many of them the plastic packaging has started to rip, so I've been on a mission to find a new solution. Once again, when the 6x8 album arrived I knew I had found the perfect solution!
You can easily store your stencils in the 6x8 pocket pages. Here I've used the packaging card from the Scrapbook.com stencils and trimmed off a quarter inch so they would fit in the pocket. If you no longer have the packaging, simply cut a piece of paper to size and place it into the pocket. And if you want to get really fancy you could use a label maker to create labels for each stencil to help organize things even more.
3. Ink Swatch Organization
I've been creating ink swatches for awhile now, but most of mine were done on a piece of paper, punched with a hole and then stored together on a binder or book ring. This worked great, but lately I've seen examples of people using coin collecting pages to organize their swatches and I really loved the look and how you can see the colors laid out next to each other!
Coin collecting pages have 2x2 inch pockets that are a great size for an ink swatch. With the arrival of the 6x8 album and page protectors, I was inspired to create my very own ink swatch book. However, there was only one problem, I didn't have any 2x2 coin pages that would fit my 6x8 album. So I thought, hmmm...I have a Fuse Tool, why don't I try to make one using a 6x8 pocket page? Well, after a little trial and error I figured it out and created my own 2x2 pocket pages.
UPDATE..Scrapbook.com now offers 2x2 pocket pages and you can find them linked in the supply list below.
Here you can see how I've used this method to swatch my collection of Distress Ink, Distress Oxides, Archival Ink and Alcohol Inks. When creating swatches, I highly recommend that you swatch the ink onto the type of paper that you most commonly use with that ink.
4. Stamp Organization
Another option is to organize your stamps. By using a mix of pocket pages, you can store a wide variety of stamps sizes. I cut a piece of typing paper to slide behind each stamp set, but you could certainly include the packaging insert of so desired. You could also include the coordinating dies by adding them to a magnet sheet and including that in with the stamp set. With all the different colors of albums that Scrapbook.com offers, you could easily separate your stamps by theme or brand and give each one it's own album. Just think how beautiful that would look on your shelf!
These are stamps stored in a 6x8 page protector...
Stamps in a 4x6 pocket page protector...
Stamps in a 3x4 pocket page protector...
5. Handmade Card Sending Kit
By now you might be starting to see a theme for some of the ways to use a 6x8 Album...organization. Yes, these little albums are perfect for organizing so many of our favorite crafting supplies. But what about your handmade cards? Mine usually end up in a bin somewhere, bent and forgotten. By placing them in the two 4x6 page protectors you have a great way to safely store your cards. You can even sort them by theme with the use of handmade dividers. Include a pocket for your envelopes and stamps, add a pretty pen and you've created your own handmade card sending kit.
To create a storage pocket for holding the stamps and envelopes, I used one of the Scrapbook.com Medium Plastic Storage Envelopes. Using the We R Memory Keepers Crop-A-Dile Multi Punch I added a couple of holes so I could include it in the album.

The dividers were made using the We R Memory Keepers Tab Punch Board and a selection of rainbow colored cardstock. I cut each piece of cardstock to the same size as one of the 6x8 page protectors and then followed the instructions to create the tabs. Once again, I used the Crop-A-Dile Multi Punch to add some holes so I could add them to the album. To decorate each divider, I used a Scrapbook.com Stencil with either a corresponding lighter or darker color of Distress Oxide Ink so that the design would show up against the cardstock color.
Just think how handy this will be for keeping you organized with sending out all those handmade cards you create!
So, now that I've shared 5 Ways to Use a 6x8 Album with you, how would you use the 6x8 albums in your craft room? Would you just stick to memory keeping or would you use them as a way to organize your crafting supplies? I'd love to hear your ideas!
Supplies
Below you can find the products I used to create this project along with compensated affiliate links to
Scrapbook.com
. These links are at absolutely no extra cost to you. If you want to learn more about what an affiliate link is, you can see my full affiliate and product disclosure statement
here
.
6x8 Albums, Page Protectors, & Tools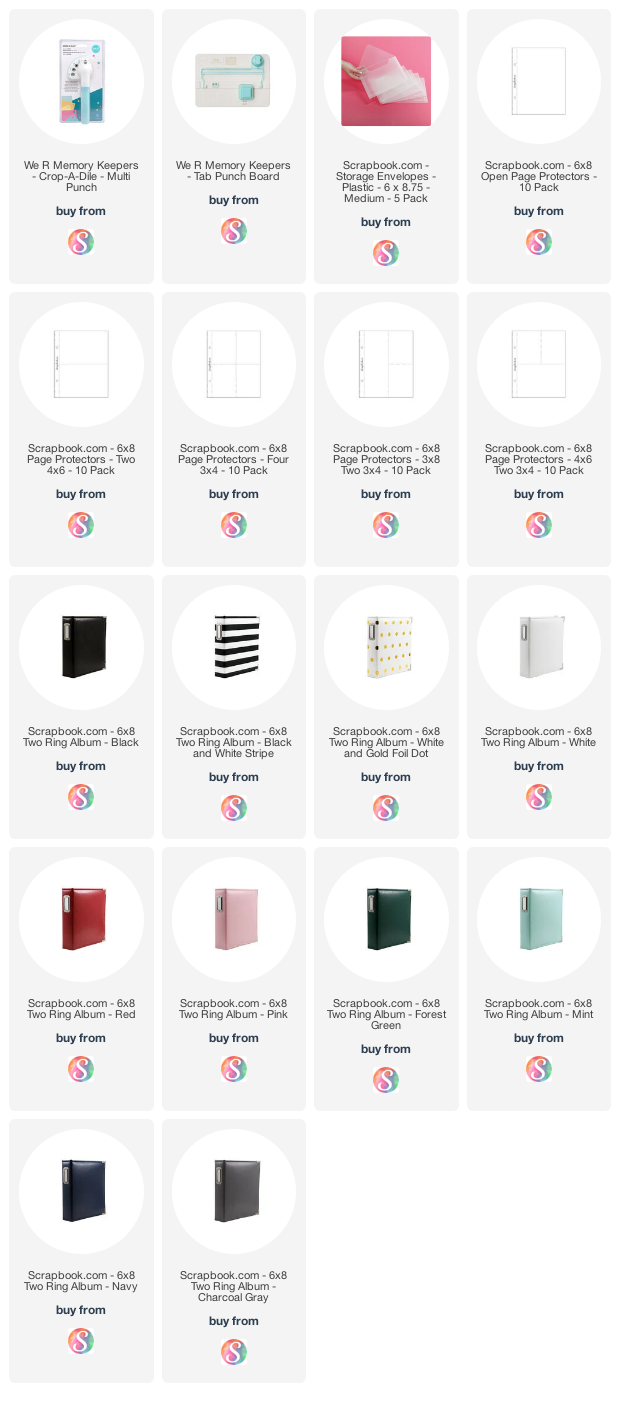 Pocket Cards, Stencils, & Stamps