Hello friends! Today I'm so excited to share my first make from the
Tim Holtz Stampers Anonymous YouTube Live Release
. On this card I'm using Botanic Collage stamp set (which may or may not be my new favorite stamp set!) and the Mini Linked Circles stencil from the Mini Stencil Set #52. I'm also going to share an accidental technique I discovered when I was playing around with the new stamps. I'm calling it Oxidized Stamping. Now let's get on to the making!
For those of you who would prefer to watch how I created this card, feel free to check out my video below. If the video isn't showing up, click
HERE
to watch it.
TIM HOLTZ BOTANIC COLLAGE STAMP SET AND OXIDIZED STAMPING TECHNIQUE
I began with a piece of Distress Watercolor cut to 4 x 5.25 inches. I choose to use this paper because it holds up great to a variety of wet mediums and I knew I wanted to work with a variety of mediums including Distress Translucent Texture Paste. I then stamped one of the images from the Botanic Collage Stamp Set using Distress Archival in Hickory Smoke using a stamping platform. I highly recommend using a stamping platform so you can repeatedly stamp the same image in the same spot. After I had stamped the image with the Archival Ink, I cleaned the stamp and inked it with Hickory Smoke Distress Oxide Ink. I'm not sure what is happening during this layering of ink, but it definitely makes the image look lighter and gives it an an oxidized look, which is why I'm calling this technique Oxidized Stamping.
I discovered this Oxidized Stamping technique when I was playing around with the new stamps and trying to figure out what I wanted to do. I actually stamped the Archival Ink first and then stamped a different color of Oxide over it because I decided I wanted a different color than what I had used originally. That's when I saw what happened by layering those 2 inks on top of each over.
I wanted to add a little more stamping before I added any texture, so I selected some images from the Eccentric stamp set. I choose 3 different images and placed them in a triangle to each other. Once I had decided on their placement, I stamped them using Prized Ribbon Distress Archival Ink. Next I placed the paper into my Splat Box and spritzed it lightly with a bit of Salvaged Patina Distress Spray.
To add some texture to the card, I used Distress Translucent Texture Paste with the Linked Circles from the Mini Stencil Set #52. I placed the stencil toward the upper left corner and began applying the paste using a palette knife. I didn't want to cover the entire piece of paper so I applied some to the upper left side of the paper and then moved the stencil so I could apply some to the lower right side. When doing this, I just use my fingers to hold the stencil off of the area that I just applied the paste.
While the paste was still wet, I pulled out some Distress Embossing Glaze in Salvaged Patina and Prize Ribbon. Using my finger I sprinkled the powder over the paste. I'm working over a piece of typing paper folded in half. Once I had the paste covered with the glaze powder, I tapped off the excess and dumped it into the trash. If you don't like to waste things you could certainly save this powder for another project.
At this point, you could set the paper to the side to dry and then heat emboss the glaze OR if you are like me and aren't that patient, you can use your heat gun to dry the paste AND melt the glaze. As you dry the paste and melt the embossing glaze it becomes shiny like glass! Once the embossing glaze is melted it's time for the next step.
To add more interest to the card, I added some ink splatters using Salvaged Patina DO Spray. For another bit of interest, I decided to add a bit of Distress Foundry Wax in Gilded. Once it was well mixed, I applied a bit to my craft mat and then added just a drop of isopropyl alcohol. Working quickly, I mixed them together using a paint brush and then flicked the liquid wax onto my background. I repeated this process until I was happy with the amount of splatter. I then used my heat gun, like the one you would use for heat embossing, to permanently set the wax. If you want to learn more about Distress Foundry Wax, make sure to check out my
Foundry Wax blog post and video
. The process of heating the wax and watching it transform into its permanent shiny finish is something I seriously love to do!
The next step for this card background was to add some Frayed Burlap Distress Ink to the edges using a blending tool.
To embellish the card, I stamped the 2 butterfly images from the Botanic Collage Stamp Set onto Distress Watercolor paper using Black Soot Distress Archival Ink and watercolored them using Villainous Potion Distress Ink and a water brush. Once the paper was dry, I used a pair of scissors to fussy cut the butterflies and then adhered them to the card front using double sided adhesive strips.
For the sentiment I used a stamp from the Noteworthy stamp set and Black Soot Archival Ink. I trimmed it into 2 strips, inked the edges and adhered it with a bit of double sided foam adhesive. I then layered the card front onto a piece of black cardstock cut to 4.25 x 5.5 inches.
I hope you enjoyed learning how I created this card using some of the new Tim Holtz stamps and stencils and about the Oxidized Stamping Technique.
SHOP THE NEW TIM HOLTZ STAMPERS ANONYMOUS RELEASE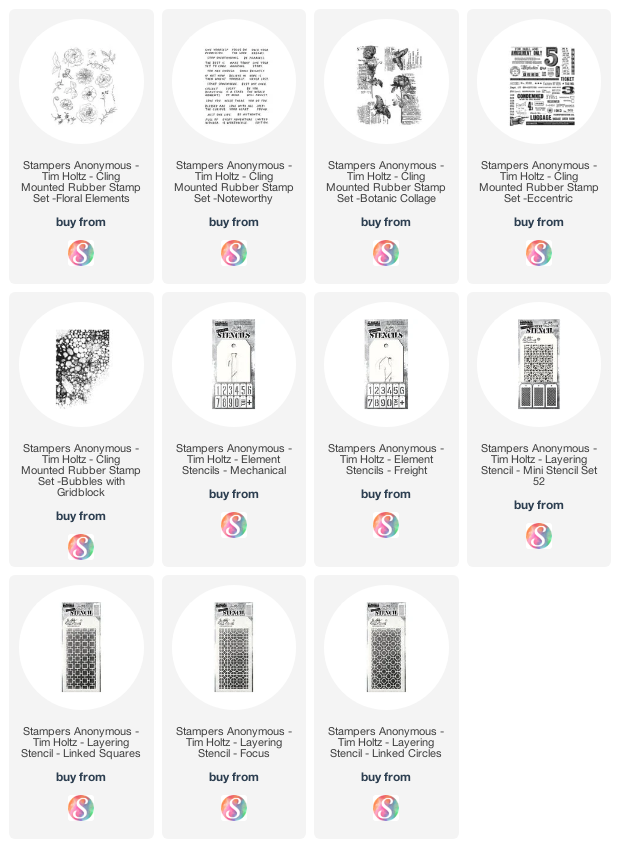 PROJECT SUPPLIES
Below you can find the products I used to create this project along with compensated affiliate links to Scrapbook.com. These links are at absolutely no cost to you. When you shop through the links below, I receive a small commission from Scrapbook.com. These links are at absolutely no cost to you and the commission I receive helps me cover the costs of my blog and other expenses, which allows me to continue to provide you with FREE inspiration and tutorials. If you want to learn more about what an affiliate link is, you can see my full affiliate and product disclosure statement here. Thank you so much for your love and support!